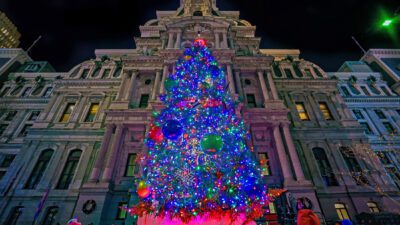 Seasons greetings, Philadelphia! As the holiday season approaches, our city transforms into a twinkling wonderland, thanks to a series of spectacular tree lighting events. These festivities are not just about lights; they're a celebration of community, tradition, and the joyous spirit of Philadelphia. Let's embark on a festive journey through some of the city's most delightful tree lighting ceremonies.
A Festive Evening in Northern Liberties (11/28, 6-8 pm)
Figo Ristorante, 1033 N. 2nd Street
Prepare for a night of warmth and joy in Northern Liberties, where the community gathers to celebrate the season. Amidst the hustle and bustle of N. 2nd Street, a splendid tree comes to life with lights, surrounded by live entertainment and seasonal treats. It's a heartwarming display of neighborhood camaraderie and festive cheer.
Old City's Historical Festivity (11/29, 5:30-6:30 pm)
Betsy Ross House Courtyard, 239 Arch Street
Old City offers a unique blend of history and holiday merriment near the Betsy Ross House. This event combines Philadelphia's rich heritage with the excitement of the season. Watch as historical figures mingle with festive performers, creating an unforgettable holiday experience.
South Philly's East Passyunk Avenue Lights Up (11/29, 5:30 pm)
Singing Fountain – Tasker and East Passyunk Avenue
East Passyunk Avenue is a hub of festive activity, with its tree lighting ceremony marking the start of a joyous season. The neighborhood buzzes with energy as music fills the air and the community comes together to celebrate under the glow of the tree.
City Hall's Spectacular Showcase (11/30, 7 pm)
North side of City Hall – 1400 John F. Kennedy Boulevard
The heart of Philadelphia shines brightly at City Hall, where a magnificent tree serves as a beacon of holiday spirit. The event also features a performance by Grammy-nominated singer-songwriter Jordin Sparks, along with live music from DJ Diamond Kuts, Felicia Ponzo and Disney's Frozen. The tree is lit at the beginning of the celebration this year — so get there early! (Can't make it? The lighting will be livestreamed on 6abc.com.)
Fishtown's Celebration at Evil Genius Beer Company (11/30, 6-9 pm, lighting at 7:30)
1727 N Front St, Philadelphia, PA 19122
In the heart of Fishtown, the Evil Genius Beer Company hosts a charming tree lighting ceremony. This event is a testament to Fishtown's eclectic and spirited community, with holiday decorations creating a cozy, inviting atmosphere.
Roxborough's Extended Holiday Merriment (12/8, 5:30 pm)
Roxborough Pocket Park (6170 and 6174 Ridge Avenue)
Roxborough extends the holiday spirit with a multi-day celebration. The neighborhood comes alive with craft markets, music, and a special tree lighting event, showcasing the area's commitment to community and festive enjoyment.
Each of these tree lighting ceremonies in Philadelphia is a unique expression of the city's diverse and vibrant communities. They offer a glimpse into the rich tapestry of culture and tradition that makes Philly so special. So, let's celebrate the season together – join in the fun and experience the magical holiday spirit that these neighborhoods offer! Be sure to check your neighborhood parks and rec center for other tree lightings and festivities.