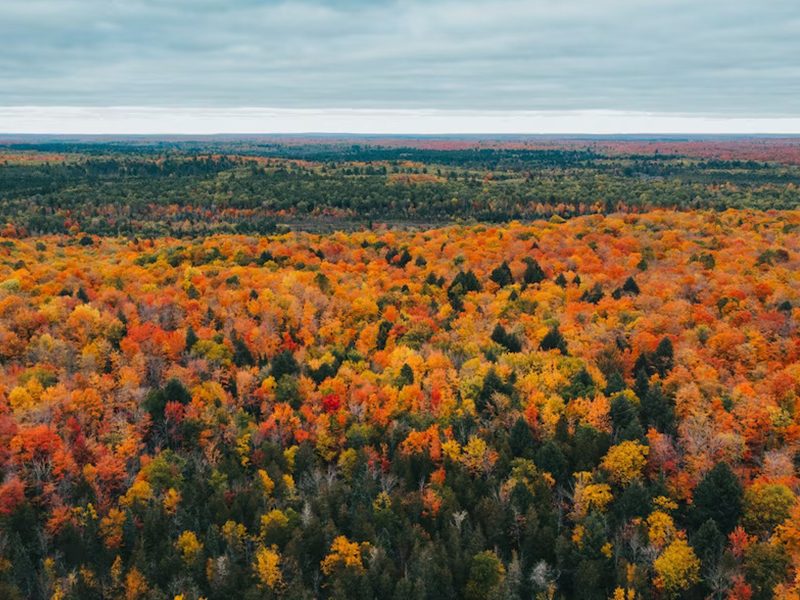 Schuylkill Township is located along the Schuylkill River. Not to be confused with Schuylkill County, which is roughly an hour away, Schuylkill Township is part of Chester County in Pennsylvania, a region known for its vast parkland and great natural beauty.
Whether it's hiking through meadows, quietly watching birds, or taking to the rivers, there are countless ways to enjoy outdoor activities in Pennsylvania. This blog aims to help you navigate the best natural attractions in Schuylkill and Chester County.
SCHUYLKILL TOWNSHIP AT A GLANCE
Schuylkill Township has a population of 8,778 residents as of the July 2022 census. The Township spans 8.91 square miles, of which 0.40 square miles is water.
The Schuylkill River forms its northern boundary, while Valley Forge Mountain (also called Mount Misery) flanks its southern end. Valley Forge National Historical Park bounds it to the east, separating the Township from Devon and King of Prussia.
WHY CHOOSE SCHUYLKILL TOWNSHIP
If you're looking for a quiet town surrounded by the great outdoors, look no further than Schuylkill Township. Here's why it should be at the top of your list:
Abundant outdoor recreation. There's an abundance of hiking trails, boating areas, and natural parks to explore, making it a paradise for adventurers and nature enthusiasts.
Low cost of living. Compared to other cities in Pennsylvania, Schuylkill Township and its neighboring communities offer a moderate cost of living and affordable properties, allowing you to enjoy a comfortable lifestyle without financially overly extending.
Excellent quality of life. With stressors such as noise pollution, crowds, and headache-inducing traffic almost absent in the Township, residents can easily attain a peaceful and undisturbed lifestyle.
OUTDOOR ACTIVITIES IN SCHUYLKILL TOWNSHIP, PA
Fishing
Residents have plenty of fishing opportunities in the Schuylkill Banks alone. The Schuylkill River may fly under the radar of other anglers – its name does mean "hidden river" in Dutch – but locals are likely aware of its many advantages as a fishing spot. Common catches in this area include catfish, perch, carp, and bass, as well as seasonal fish like eel and shad.
Do note that all anglers aged 16 years and older are required to have a signed fishing license as per the state's current regulations.
There are nearby outfitting stores if you need to stock up on bait or purchase new equipment:
Sport Fishing Outlet in East Norriton
REI in King of Prussia
TCO Fly Shop in Bryn Mawr
Boating, Kayaking, and Canoeing
These are some of the most popular activities in the Schuylkill River. Guests are free to explore the water by kayak, canoe, or paddleboard. Those who aren't yet familiar with the area can book a guided boating tour, which takes guests on some of the most pleasant routes and fishing spots along the Schuylkill. Many tours, such as the Top Water Trips tour, also offer kayak fishing lessons.
If you plan to navigate the water on your own, keep in mind that there are restrictions on where boats can be launched and operated, so be sure to check local regulations before heading out into the water.
Camping
Those who want to fully immerse themselves in nature have numerous camping options near Schuylkill Township and the greater Chester County area. Each site offers a unique experience and a variety of outdoor activities, so it's worth exploring them one by one.
MUST-VISIT PARKS AND TRAILS
Valley Forge National Historical Park
1400 North Outer Line Drive, King of Prussia, PA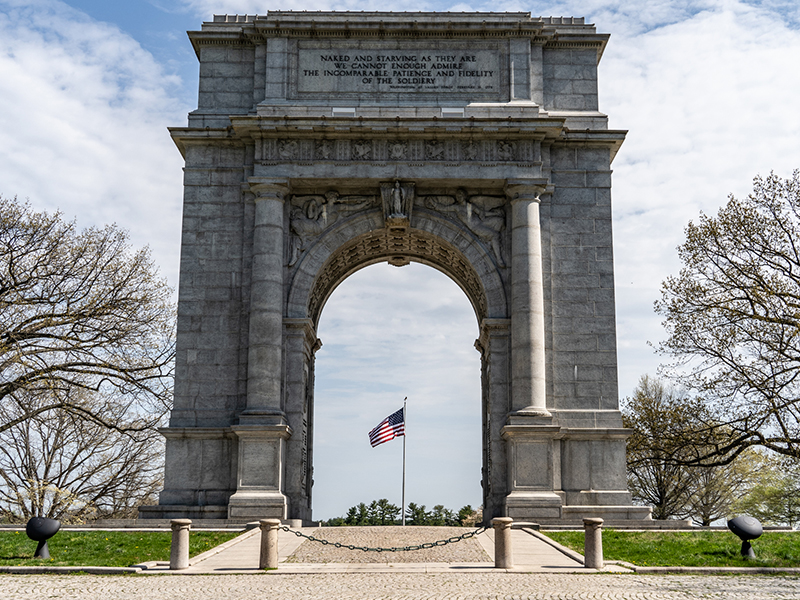 Travel more than 200 years into the past in Valley Forge National Historical Park, a sprawling 3,500-acre site where George Washington once lived and worked.
Historical significance
In 1777, during the Revolutionary War, thousands of soldiers from the Continental Army traveled to Valley Forge in search of camping grounds. Despite the cold winter weather, the men managed to construct numerous log cabins that could accommodate up to twelve people each. This was no easy feat – the initial camp of 12,000 soldiers in winter quickly grew to 20,000 by the end of spring.
Today, the site is a National Historical Center honoring those who fought in the War. There are reconstructions of the historic log cabins established by the Muhlenberg Brigade. Washington's Headquarters, where George Washington was once stationed with other high-ranking officials, is among the most visited monuments.
The awe-inspiring National Memorial Arch and Artillery Park can be found here. There's also the Visitor Center, a new exhibit where guests can hear stories from the Continental Army, take a look at historic artifacts, and see a life-size model of George Washington up close.
Hiking trails
Valley Forge National Park has over 35 miles of scenic trails for biking, hiking, and horseback riding.
The Joseph Plumb Martin Trail is a hilly 8.7-mile route for cyclists, hikers, birdwatchers, and even dog walkers that loops through some of the top attractions in the park. The entire trail takes less than two hours to finish and is generally considered one of the easier trails.
Chapel Trail is a 2.5-mile one-way trail for trekking or horseback riding. This unpaved pathway offers plenty of shade and beautiful views of the Schuylkill River. It connects to the Mount Joy Trail, another unpaved area.
The Pennsylvania FreeMason Memorial Trail is an out-and-back route that is great for beginners and takes about 1 hour and 15 minutes to complete.
The Yellow Springs Trailis a 0.3-mile paved path that connects to the more challenging Mount Misery Trail.
Mount Misery Trailis by far the most popular route in Valley Forge, but it's also the most challenging. It spans nearly 3 miles and takes about an hour and a half to finish. It's rocky, steep, and has great elevation.
The Schuylkill Center
8480 Hagy's Mill Road, Philadelphia, PA
The Schuylkill Center is one of the foremost environmental education centers in northwest Philadelphia. It is located around 45 minutes away from Schuylkill Township by car. Here, you're free to explore over 340 acres of woodland, fields, and streams that combine outdoor fun with conservation education and land stewardship.
Nearly 3 miles of breathtaking trails are here to explore. No two routes are the same, each one differing in terrain, length, difficulty, and elevation. Whether you're an advanced hiker or a visitor in search of a scenic trek, there's a trail for you.
The Widener Trail is a level, paved, wheelchair-accessible route that travels through the forest and ends at the bird blind, where you can see both local and migratory birds. The trail only takes about 15 minutes to complete, and you'll find a seating area and viewing deck about halfway through.
The longest trail is the Ravine Loop, a one-mile route that passes through the spring-fed Smith Run. Certain areas of the trail can be steep, and you'll also have to contend with challenging outcrops, so this trail is recommended for more adventurous hikers.
The Wind Dance Pond Trail is a picturesque 15-minute path frequently visited by Canada geese, mallards, and blue herons.
Schuylkill River Trail
Schuylkill River is one of the many natural assets of historic southeast Pennsylvania. Each year, over 20,000 commuters, cyclists, runners, and joggers travel through it.
The Schuylkill River Trail spans 30 miles, beginning in Frackville, Schuylkill County, weaving through the counties of Montgomery and Berks, and moving all the way to Philadelphia. You'll be passing through a series of landscapes, from agricultural farmlands to suburbs and industrial sites.
The River Trail only makes up a small portion of what is known as the Circuit Trails, a vast network of hiking spots reaching 750 miles. But what makes it special is its history and construction.
A significant portion of this trail was forged over abandoned railroad tracks – walking through it is to wind through centuries of railroad transportation and development. Evidence of canal navigation and iron and steel production can also be observed here, giving hikers a glimpse into Schuylkill's past.
NATURAL ATTRACTIONS
Black Rock Sanctuary
953 Black Rock Road, PA-113, Phoenixville, PA
A breathtaking sanctuary spread over 119 acres, Black Rock Sanctuary is a public-use wildlife habitat housing diverse ecosystems and local wildlife.
The Sanctuary houses an acre-wide pond known for its Largemouth Bass that attracts anglers from across the region. Built during the late 1950s, a prominent period for river desilting, the pond is home to many wonderful species, including Sunfish and Bluegills. At the Black Rock Dam, during springtime, you can spot schools of migratory fish traveling upstream.
The skies directly over Black Rock serve as a major flyway for birds migrating between the West and the East Coast. These are just a few of the species that can be observed here:

Marsh Wren
Broad-winged Hawk
Palm Warbler
Bald Eagle
Snow Goose

House Sparrow
Cedar Waxwing
Red-Shouldered Hawk
American Goldfinch
Yellow-Billed Cuckoo

Trails. Two walking/hiking paths can be found within the Sanctuary:

The Interpretive Trail is an 0.80 mile hike and winds through the rich natural beauty of the sanctuary, including various ecosystems for reptiles, birds, mammals, and amphibians. Return visitors will be able to see how the scenery changes with every season.
Meadow Trail, as the name implies, meanders through vast meadows and lush forestry. This is an excellent option for a relaxing walk or jog.
Black Rock Sanctuary has been recognized by the PA Department of Conservation and Natural Resources for its sustainable and green practices, which include energy conservation, green design and construction, natural stormwater management, and dedication to connecting people with nature.
French Creek State Park
843 Park Road, Elverson, PA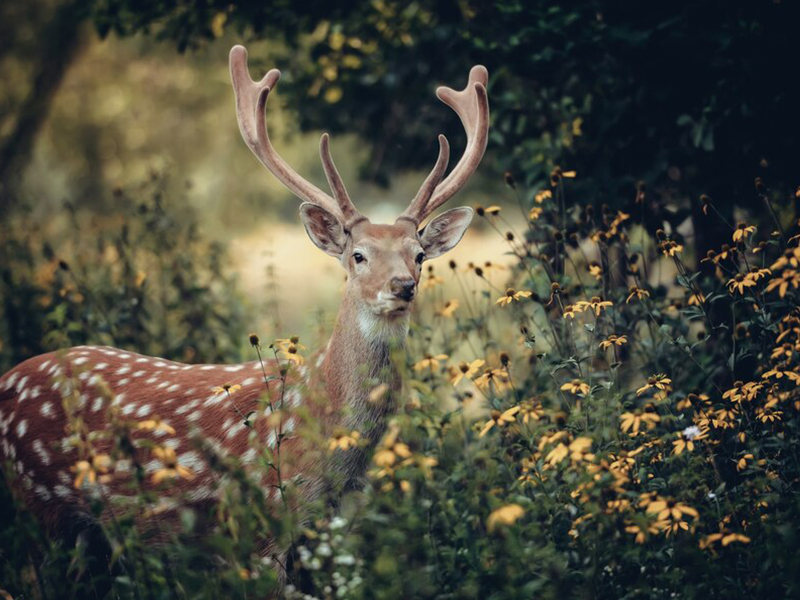 (White-tailed deer, common in Pennsylvania)
With over 7,730 acres of woodland and camping grounds, French Creek State Park stands as one of the most expansive forested areas in the region. Visitors and residents from all over southeast Pennsylvania frequently come here to enjoy the breathtaking views and embark on a variety of outdoor activities such as hiking, fishing, camping, and biking.
The park prides itself on being home to diverse plants, animals, and habitats, which it safeguards tirelessly. These conservation efforts have earned them many distinctions, including the titles of "Important Bird Area" by The National Audubon Society and "Important Mammal Area" by the PA Game Commission.
Marsh Creek State Park
675 Park Road, Downingtown, PA
Covering a vast 1,705 acres (or roughly 690 hectares) is Marsh Creek State Park, a natural attraction located in Upper Uwchlan, Chester County. The expansive parkland is home to Marsh Creek Lake, a 535-acre man-made lake that serves as a passageway for migratory ducks and geese.
Swimming, boating, and hunting are just a few of the activities available here. Picnic tables are set up for families and groups to enjoy the spring and summer. Even in wintertime, there's plenty to do, as sledding slopes are put up during the season.
An impressive array of warm water fish can be spotted in Marsh Creek Lake during the warmer months. Common catches include channel catfish, walleye, largemouth bass, tiger muskellunge, and black crapper. If you're looking for a place to do some big bass fishing, this is it – the bass in this lake are often over 15 inches in size. Come winter, when the ice starts to thicken, visitors can enjoy rounds of ice fishing.
With excellent winds and optimal terrain, many sailboaters frequent Marsh Creek Lake. Canoes, kayaks, paddleboards, and non-gasoline boats are free to go out into the water though there are speed restrictions on powered boats in place so as not to disturb the wildlife.
Marsh Creek State Park has roughly 900 acres of hunting grounds. Popular game species here are pheasant, rabbits, white-tailed deer, and squirrels, though groundhogs are off-limits. Do note that hunters in this area must adhere to the strict rules of the Pennsylvania Game Commission. A printable copy can be found here.
EXPLORE THE NATURAL WONDERS OF SCHUYLKILL TOWNSHIP WITH MARIE DEZARATE
Schuylkill Township is a hidden treasure that only a few people truly know. And as a real estate agent with over 18 years of experience serving the counties of Chester, Montgomery, and Delaware, I'm well-equipped to help you navigate the local housing market and show you the best of what Schuylkill has to offer.
If you're ready to make the move to Schuylkill Township, get in touch with me. You can reach me at 484.881.2397 or bysending a message.