From hidden gems tucked away in historic buildings to trendy eateries that redefine modern dining, Phoenixville, PA houses a culinary scene like no other. Here are some of the best restaurants in this charming historic borough.
Avlós
258 Bridge St.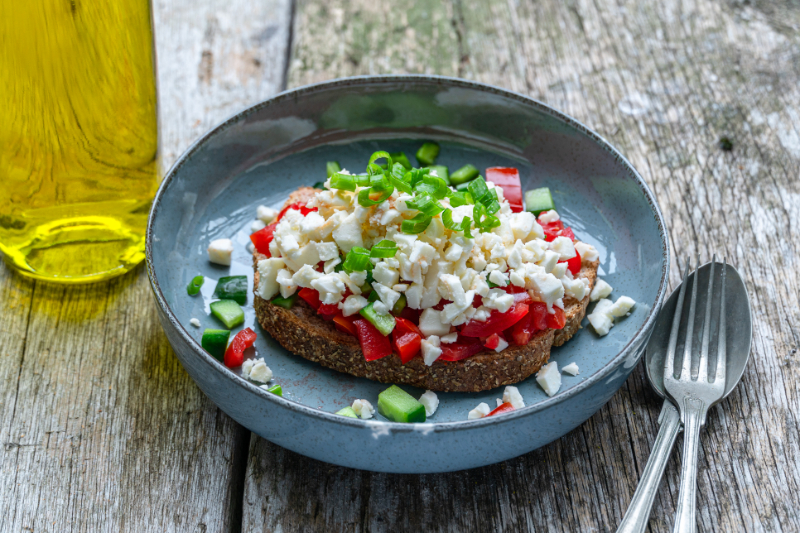 With its breezy, tasteful interiors and wide range of seafood dishes, Avlós can easily transport you from Bridge Street to a cozy alley in Mykonos. Located in the building that previously housed the award-winning restaurant and local favorite Majolica, it carries on the legacy of its predecessor with its Old World charm and modern takes on traditional Greek food.
The results of a flavorful odyssey
Although Avlós only opened a few years ago, its heart and soul was 20 years in the making. After working in the finest restaurants all over the world, Executive Chef Nicole Skartsilas decided to forge her own path, drawing inspiration from her ancestral ties in Mytilene and her childhood in a small town on Mount Olympus. Feeling at home along Bridge Street's brick sidewalks and plethora of small businesses, she decided to settle down and bring a taste of Greece to Phoenixville residents.
What to try
Chef Skartsilas' love and passion for her Greek heritage is evident in every meal she serves. Start with Dakos – a double-baked barley rusk topped with tomato, feta, capers, and wild Greek oregano – a go-to Cretan meze or light snack to stimulate the appetite.
For the main course, the seafood dishes are a must. Go for the seared octopus paired with vinegar, red onions, and fava puree, or an elegantly plated swordfish, salmon, and branzino filet over bulgur and seasonal vegetables. If you're in the mood for something land-based, the chargrilled lamb chops, pork souvlaki, or Kota Kopanaki (roasted chicken thighs) are equally delightful choices.
Phoenixville foodie fact #1:
You can go on a culinary world tour within the borough
Phoenixville's dining scene embraces a wide range of international influences. From Italian trattorias to Mexican cantinas, you can embark on a culinary journey around the world without leaving town.
Every international restaurant in the borough adds their own twist to traditional cuisines, resulting in dishes that are both authentic and innovative. Aside from Avlós, check out:
Bistro on Bridge
212 Bridge St.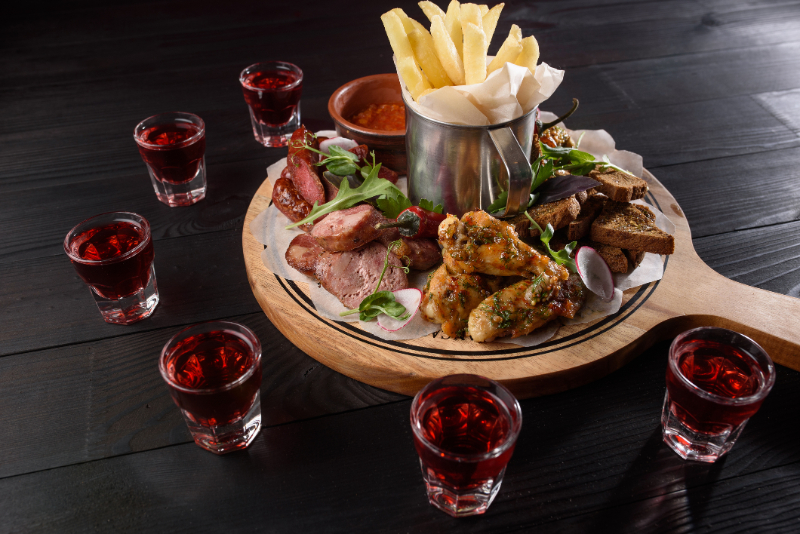 For over a decade, Bistro on Bridge has been one of the best restaurants in Phoenixville, PA when it comes to celebrating music, community, and great pub fare. From the expansive selection of craft beers, cocktails, and spirits to the eclectic collection of arcade games and vinyls, Bistro on Bridge's ambiance has an electric energy fueled by local up-and-coming artists and the pulse of the borough's vibrant culture.
A distinctive social setting
Recently remodeled, Bistro on Bridge's unique interiors emphasize the main reason why we dine out: to collect small but memorable moments with friends and loved ones. Spread across two floors, it offers indoor, sidewalk, and patio seating, perfect for a casual group outing or a more intimate experience.
The spacious first floor is great for after-work hangouts and light conversation, with numerous booths, tables, and bar seats. The second floor serves as an entertainment hub, with arcade games, communal tables, a shuffleboard, and even a lounge area with a firepit. There is also a balcony area/ open-air beer garden where you can enjoy live music performances or a pleasant Sunday brunch with friends.
What to try
If you like bold flavors, start off strong with the boneless chicken wings, tossed in buffalo, BBQ, or honey garlic sauce. The short rib sandwich – a slow cooked masterpiece served with mashed potatoes – is also a great option. Pair these with either a blood orange mule or, if you're feeling fancy, a bold red wine like Malbec.
If you prefer something lighter, the bavarian pretzel served with beer cheese and mustard is the perfect snack to pair with a craft beer of your choice. Fish tacos are also a great appetizer to share or enjoy on your own, especially when taken with a fruity drink like a strawberry mojito.
Phoenixville foodie fact #2:
Bridge Street is more than just about amazing food
Bridge Street isn't just Phoenixville's main thoroughfare; it is also the epicenter of the borough's history, culture, and community events.
Even before Phoenixville was incorporated as a borough in 1849, Bridge Street was already an economic and industrial center in the area. Many of the buildings built along this road that in the 18th and 19th century can still be seen today, such as The Colonial Theater.
But don't let the vintage structures fool you—this street pulses with energy. From the renowned Phoenixville Arts Festival to lively farmers markets, Bridge Street is a constant hub of activity. It also hosts PXV Inside Out, one of the largest, pedestrian-only summer street festivals in Philadelphia.
Chikara
131 Bridge St.
Go on a culinary journey through Asia at Chikara, a Pan-Asian restaurant with a wide-ranging menu that pleases all kinds of palates, whether you prefer traditionally-prepared sashimi or experimental sushi rolls. Japanese, Chinese, and Thai dishes are also offered, including a variety of noodles, kung pao, and hibachi entrees.
A perfect date night spot
With its sleek, contemporary design, tasteful mood lighting, and minimalist décor, the restaurant is a great spot where you and your significant other can enjoy a quiet evening with great food and even better company. There's also plenty of seating for families and big groups.
What to try
Start with a plate of gyoza and sashimi salad. Follow up with one or two of their signature rolls, such as the Chikara king roll (made with king crab, asparagus, and avocado, topped with fresh tuna and salmon and drizzled with balsamic vinaigrette) and the Lady Gaga roll (a bright and spicy yellowtail and tuna sushi roll with avocado and jalapeños).
For those who want something other than sushi, the Thai mango chicken, stir-fried udon noodles, and hibachi New York steak are great examples of the restaurant's culinary range.
The Great American Pub
148 Bridge St.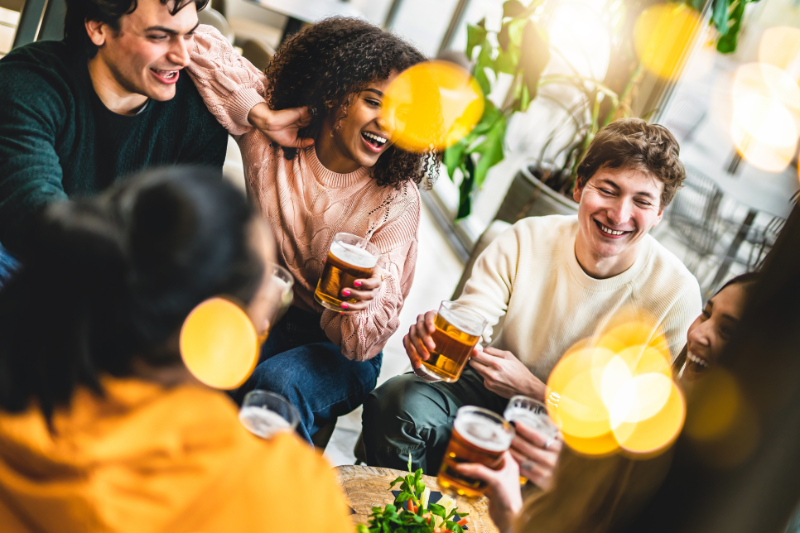 Who said pub grub can't be an elevated experience? With its savory burgers, great selection of beers on tap, and various events and performances, this family-owned and operated establishment has been a local favorite for Friday night outs since 2014.
Engaging with history and community
Located within the historic Columbia Hotel, The Great American Pub seamlessly blends the past and present. It offers patrons a rustic and welcoming interior with numerous seating options to choose from. The outdoor dining area features swinging chairs, fire pits, and a lively bar, making it one of the best summer night hotspots along Bridge Street. Paired with live music, quizzes, and karaoke on weekends, every visit can turn into a celebration.
What to try
The Bridge Street Burger is a must, especially if it's your first time to dine at this fine establishment. If you're planning to order one of their brick-oven pizzas, the philly cheesesteak comes highly recommended. Add on a serving of the crispy fish tacos and Palm Beach salad for appetizers, along with a strawberry waffle taco for dessert, and you've got yourself a full-course meal.
Phoenixville foodie fact #3:
The Brewery Capital of Pennsylvania
Phoenixville has housed numerous breweries throughout its history, with its first brewery dating all the way back to the 18th century. Because of its soft, low-mineral water quality and agricultural abundance – which ensured a steady supply of necessary produce like hops and barley – the borough has always been an ideal place for the brewing industry.
You can find historic breweries like the Sly Fox Brewing Company (1995) serving top-quality brews to this day. A recent resurgence in Phoenixville's economy has also paved the way for newer, independent breweries, including:
Il Granaio
184 Bridge St.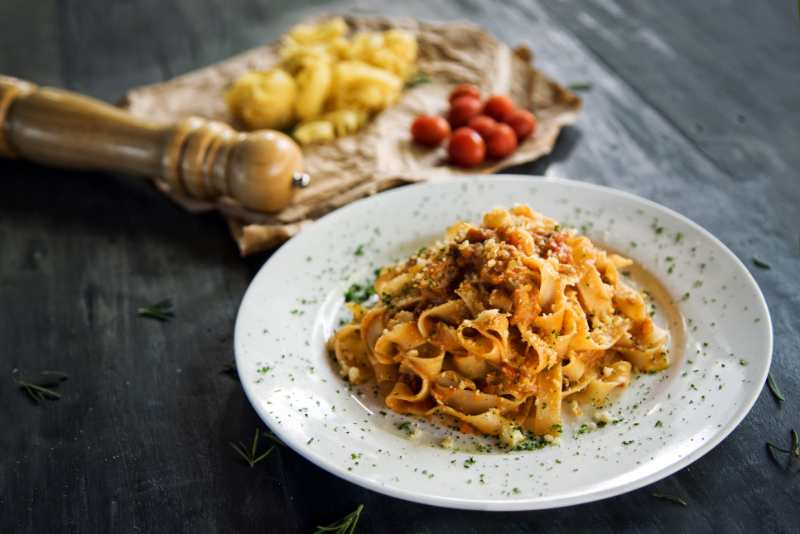 Located in the basement floor of a quaint hotel near Colonial Theater, Il Granaio is the perfect place for a romantic rendezvous after a show. Its delectable seafood and pasta dishes, paired with the right bottle from their eclectic wine list, make it a neighborhood favorite for Italian cuisine.
An ode to tradition and authenticity
Rustic and elegant, the restaurant's stone walls, wooden floors, and gentle music create an intimate atmosphere. An outdoor seating area, complete with space heaters, provides a cozy space where guests can comfortably enjoy their dinner al fresco.
For the chefs and staff at Il Granaio, the dining experience is more than just appreciating Italy's culinary excellence – it's a tribute to tradition and cultural authenticity. The meal always starts with freshly baked bread and hummus, followed by the main course, which can range from seafood-rich pasta like Zuppa Di Pesce to hearty sandwiches. Generous portions ensure every bite is a gratifying experience.
What to try
Begin with a caesar salad and their polenta (with grilled mushrooms and creamy gorgonzola). For the main course, we recommend the Pulpo Alla Griglia, or grilled octopus garnished with lemon chili oil, best complemented by sautéed brussels sprouts with pancetta and balsamic reduction. The Paccheri Della Casa, which is homemade short tube pasta with crabmeat, baby shrimp, artichokes, and spinach in a pink brandy cream sauce, is also a stand-out dish.
Phoenixville foodie fact #4:
Many restaurants have farm-to-table initiatives
Restaurants like Il Granaio support sustainable agriculture, particularly by sourcing fresh, locally-grown ingredients from farms within the region.
Aside from dining at the best restaurants in Phoenixville, PA, you can also support this initiative – and local businesses – by going to The Phoenixville Farmers Market.
Held every Saturday under the Gay Street Bridge, it is a great place to find fresh, locally-grown produce, as well as other farm products like meat, cheese, and baked goods. Check out their list of artisans and producers here.
Sage Mediterranean
150 Bridge St.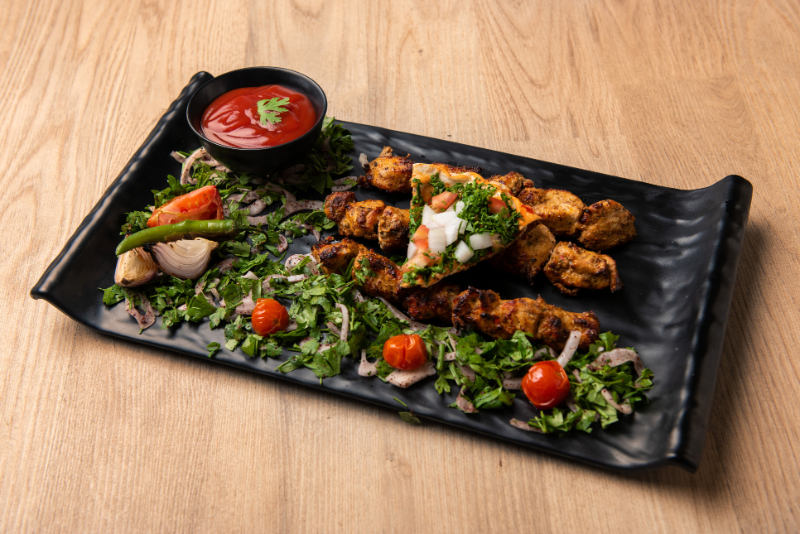 Serving the borough with top-notch fine dining experience for over two decades, Sage Mediterranean is a beacon of Middle Eastern cuisine in Phoenixville. With each dish prepared by seasoned chefs, the restaurant offers its patrons a contemporary approach to traditional Middle Eastern and Mediterranean spices and flavors.
High-end service, relaxed atmosphere
The ambiance at Sage Mediterranean strikes a harmonious chord between upscale dining and relaxed comfort. Polished wooden tables adorned with flowers set the stage for an unforgettable experience, whether you're dining indoors or al fresco.
What to try
Begin with the starters that evoke the essence of the Middle Eastern and Mediterranean regions – hummus, crispy falafel, and babaganoush. Follow this with your choice of kabob entrees, which goes great with tabbouleh salad.
But the true magic lies in the platters. The shawarma or chicken taouk platters offer great value in terms of quality and quantity. For seafood enthusiasts, the shrimp risotto and linguini pescatore are must-haves. The Chilean sea bass, which comes with a delectable mushroom sauce, and the fettuccine di mare are crowd favorites as well.
Phoenixville foodie fact #5:
Some of the best restaurants in Phoenixville, PA are BYOB
Sage Mediterranean is a BYOB restaurant, which means you can "Bring Your Own Bottle" or "Bring Your Own Booze." It's a dining concept where customers are allowed to bring their own alcoholic beverages, such as wine, beer, or spirits, to enjoy with their meal at a restaurant.
Here are some tips that can help you make the most of your BYOB experience:
Check the restaurant's policy. Before you go, make sure to check the restaurant's BYOB policy. Some places might charge a corkage fee, while others might have restrictions on the type of alcohol you can bring. Check the restaurant's website or call before heading to your reservation to avoid any surprises.
Pairing with food . If you're unsure about which dishes would pair well with your bottle, don't hesitate to ask the restaurant staff for recommendations. They can provide helpful insights on what goes best with their menu.
Bring the right tools . If your drink requires a corkscrew, bottle opener, or other specific tools, make sure to bring them along. Some BYOB restaurants might have these tools available, but it's always a good idea to be prepared.
Sharing. It's encouraged – but not required – to share your bottles with other patrons in a BYOB. It's part of what makes the concept a charming and communal experience. So if you're dining with others, consider sharing your beverages. This way, you can sample different drinks and enhance the overall dining experience.
Enjoy responsibly . While bringing your own drinks can be fun, remember to drink responsibly and in moderation. The goal is to enhance your dining experience, not overindulge.
Your Mom's Place
324 Bridge St.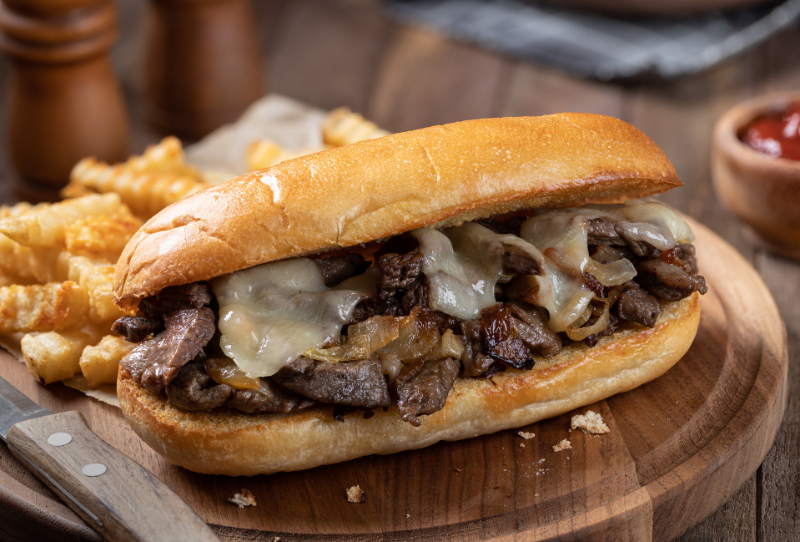 With its homestyle dishes and cozy ambiance, Your Mom's Place has carved a heartwarming niche in Phoenixville's culinary scene.
Your go-to comfort food
Owned and operated by Bill and Nancy Rutter, Your Mom's Place is a labor of love. The couple boasts over 25 years of collective experience in Montgomery and Chester County's food industry. Although they both took a 10-year break from the industry to raise their family, they always knew they wanted to own a restaurant together. When they found Your Mom's Place in 2016, they knew it was the perfect opportunity to fulfill their dream.
Here, Bill's culinary expertise and Nancy's bar management skills merge seamlessly to create a culinary haven with an atmosphere that feels like home. Despite its small footprint and modest decor, this eatery's mouth watering creations and genuine hospitality embody Phoenixville's unique small town charm.
What to try
Every dish brings nostalgic pleasure. The Cowboy, a special omelet made with your choice of 3 meats and good ol' American cheese, is one of the restaurant's breakfast bestsellers. If you have more of a sweet tooth, their Bob Marley pancakes and vanilla-drizzled French toast are popular choices.
For lunch, there's a variety of burgers, hoagies, chili, and sandwiches – all made from scratch – to choose from. Their Muy Grande Roy-Ale smash burger (made with 2 patties, roasted woodland jewel mushrooms, and chipotle aioli), Bomb Chili Bowl (Mom's homemade chili served with cornbread), and To the Point Cheesesteak sammies come highly recommended.
Explore Phoenixville and your real estate options here
As you explore Phoenixville's vibrant culinary scene, why not take the next step and explore the real estate opportunities that Phoenixville has to offer? Just like securing a seat at your favorite restaurant, finding the perfect home in Phoenixville requires a competitive edge.
I am Marie DeZarate, a local real estate agent with almost two decades of experience in Chester and Montgomery Counties. My team of highly skilled agents and I can provide you with the guidance and expertise you need to navigate the Phoenixville housing market with confidence.
Start your journey towards finding the perfect home in Phoenixville today! Call me at 484.881.2397 or send me an email here.